For New Year's Eve I decided on trying to make a couple new things. One of those things was Ina Garten's Weeknight Bolognese . I found it so delicious that I have since made it twice more. As part of my 2022 goal of trying to make 52 unique new to me recipes I decided to attempt to make a vegan option. I figured if I could make something as tasty then it could be used when I'm trying to eat more plant based and to serve to my vegetarian and vegan friends. Ina suggested simply subtituting the meat for mushrooms to make it vegetarian. I took it several steps further by replacing the meat with marinated tofu and to replace the cream with cashew cream. The other ingredients and main steps for the sauce however are identical. I have to say that it turned out as delicious as the original. I could easily see serving this to all friends, not just vegetarian/vegan friends, rather than the original version and to use it as sauces in things like lasagnas as well.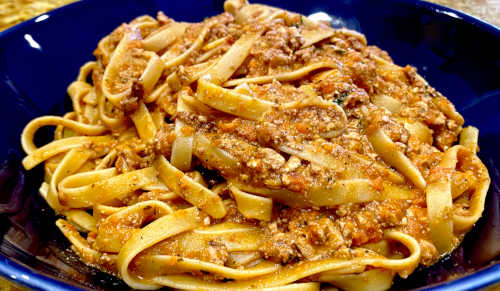 Recipe
Servings: This makes 4 hearty to 8 appetizer sized portions
Ingredients
For the tofu marinade:
2 tablespoons of olive oil
1 tablespoon of low sodium soy sauce
1 tablespoon of Worcestershire Sauce (there are vegan options for this but most are not)
2 tablesoons fresh squeezed lemon juice or red wine vinegar
1 tablespoon fresh minced parsley
4 clove garlic minced or put through a garlic press
1 teaspoon black pepper
1 teaspoon of onion powder (optional)
For the cashew cream:
1 cup (130 grams) of unsalted raw cashews
1/2 cup of water
1/8 teaspoon kosher salt
Main recipe:
1 block (12-14 ounces, 350-400 grams) of extra firm tofu
1-2 batches of the marinade recipe
1/4 cup of cashew cream (about 1/4 of the above recipe)
2 tablespoons olive oil
4 cloves of garlic minced or put through a garlic press
1 tablespoon dried oregano
1 1/4 cup dry red wine, divided into 1 cup and 1/4 cup portions
1 can (28 ounces) crushed tomatoes, preferably San Marzano
2 tablespoons tomato paste
1 teaspoon kosher salt
1.5 teaspoons black pepper
1/4 teaspoon crushed red pepper flakes (optional)
1/4 teaspoon nutmeg
1/4 cup chopped fresh basil
1 pound of dried pasta (if serving over pasta immediately)
Directions
Preparing Marinated Tofu (need to start three days before)
Remove tofu from packaging and place in freezer. Freeze until firm, at least 12 but 24 hours better
Remove from freezer and let thaw on a wire rack over a bowl to begin the draining process.
Once fully thawed gently press out remaining water by placing the tofu on a cutting board and a plate on top and gently pressing down. We want to get some more of the water out so it soaks up more marinade. It will express 1/2 cup of water or so.
Dice or crumble the tofu into 1/4 to 1/2 inch (1/2 to 1 centimeter) pieces
In a bowl mix together the ingredients for the marinade. The listed ingredients for the marinade are for a bare minimum which will properly coat the tofu. If you want it to have additional sauce as well then make a double batch of the marinade.
In a storage container mix the tofu and marinade together thoroughly and place in fridge for 8-12 hours.
Once or twice during marination time toss and remix the tofu with a spoon to make sure it is marinating evenly. If using a tupperware container you can just shake it.
Making Cashew Cream
Place 1 cup of cashews in a container with at least 2 cups of water (extra doesn't hurt)
Let soak for 8-12 hours
Drain the cashews and place in a high powered blender with 1/2 cup of water and 1/8 teaspoon kosher salt
Blend on high for 30-45 seconds, or until smooth and it has a cream like in texture
Pour out into container for storage. You'll need 1/4 cup of this for the recipe. The rest can be kept in the fridge for a few days and used in place of cream in other recipes.
Making the Sauce (and Pasta)
With a burner set to medium high, heat 2 tablespoons of olive oil in a large pot or (12 inch or larger) high lipped pan. You will be mixing the pasta in here so it has to be able to hold all of the sauce and the pasta. I use a 5 quart dutch oven.
Add the marinated tofu and cook until brown bits start showing on bottom of pan (5-7 minutes).
Add in the garlic, oregano, and pepper. Mix well and cook for one minute
Pour 1 cup of the red wine into the pan to deglaze. Use your spoon/spatula to loosen all the brown bits off the bottom of the pan. Let the sauce start to come to a boil.
Add the tomatoes, tomato paste, salt, and pepper. Mix well and then bring to a boil.
Once boiling reduce the heat to medium low to medium to simmer the sauce for 10 minutes. Stir occassionally.
While the sauce is simmering begin heating up the water for your pasta in another pot. Be sure to salt the water to your liking.
Once pasta water is boiling add the dried pasta and cook to the instructions for "al dente" on the package.
Back to the sauce; after the 10 minutes of simmering the sauce reduce the heat to low. Add in the nutmeg, basil, and 1/4 cup of the cashew cream. Combine and let it continue to simmer on low until the pasta is completed, which will be another 5-8 minutes.
Once the pasta is done using tongs, a spider, or a pasta fork, transfer the pasta directly from the boiling water into the sauce.
Add the remaining 1/4 cup of red wine and then mix it all together. Let it cook together on low for 1-2 minutes
If the sauce is too thick for your liking you can add some of the pasta water in, one ladle full at a time. Giving it a minute or so to incorporate to determine if it needs further thinning.
At this point it is ready to serve.
Nutrition
The below nutrition profile is for the sauce only and assuming four hearty portions per recipe as calculated with Cronometer.com . See the notes section below on reduced sodium recommendations.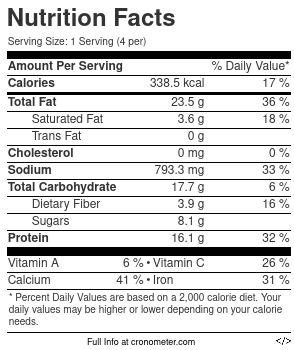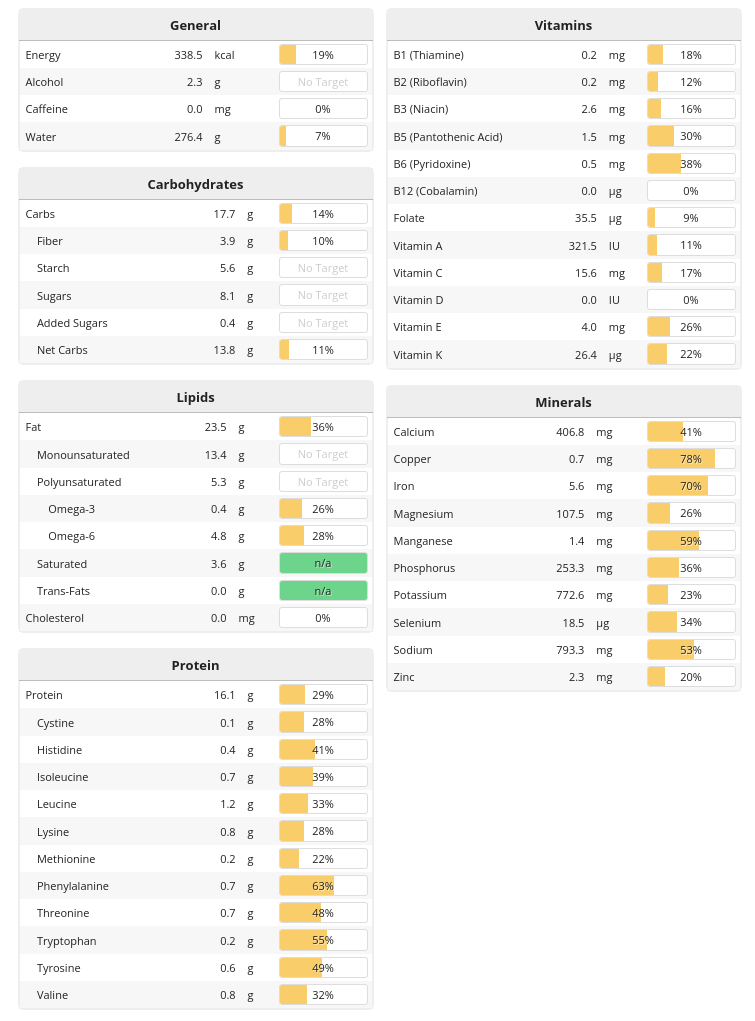 Notes
A couple of notes on the recipe in terms of planning. First, the tofu preparation is using a freeze and thaw before pressing technique which changes the tofu texture and makes it more ground meat like. It is technically optional if you want to skip that step and save yourself the 1.5 days of freezing/thawing. The marination of the tofu and the soaking of the raw cashews for the cashew cream should really be done several hours before or the night before. If you are really pressed for time you could probably start from a block of tofu right from the package, press, cut, marinate and sautee. Likewise you can probably skip the soaking step for the cashews. I have tried neither of these but worst case you'll end up with a slightly different texture from the cashew cream and less depth of flavor from the tofu.
In terms of nutrition you can see that the recipe is relatively high in Sodium, as is common for sauce recipes like this. Below is the breakdown of where the salt is coming from. Since the kosher salt and tomatoes are the overwhelming majority of it swapping out low/no sodium tomatoes and cutting back on the added salt. The next biggest two are the soy sauce and Worcesthire sauce in the marinade. It is often necessary to compensate for this by increasing spices in other areas. I have not experimented with a low sodium version of this recipe yet so I do not have any concrete recommendations yet but it something I may experiment with in the future.
| Ingredient | Milligrams | % Recipe |
| --- | --- | --- |
| Kosher Salt | 315 | 39.7 |
| Canned Tomatoes | 263.7 | 33.2 |
| Soy Sauce, Low Sodium | 143.4 | 18.1 |
| Worcesteshire Sauce | 55.9 | 7.0 |
| Red Wine (cooked) | 7.8 | 1.0 |
| Red Wine (cooked) | 4.5 | 0.6 |
| Other Ingredients | 3 | 0.4 |