Week 3 Virgin Diet Summary
With the third week done I'm now moving into the last week of abstaining from all of the forbidden foods.  While I have the hang of it still, I can't say I'm beyond craving the foods that I really like.  Just like last week I'm not feeling any different, with the exception of having a cold and feeling those couple of "disconnected" feelings right before lunch on Thursday and Saturday.  Diet wise I really didn't do so great with the nutrition.  I did have a couple of salads but a lot more of my calories came from rice and potatoes.  While that didn't violate any of the rules of the seven forbidden foods, it is breaking the rules with respect to the ratio of carbs, greens and protein.  While that is more for people trying to lose weight on this diet than about determining if they are having a food sensitivity, the fact that I am low on a lot more nutrients this week than last week means I have to get my vegetable intake up in this coming week.  The breakdown was: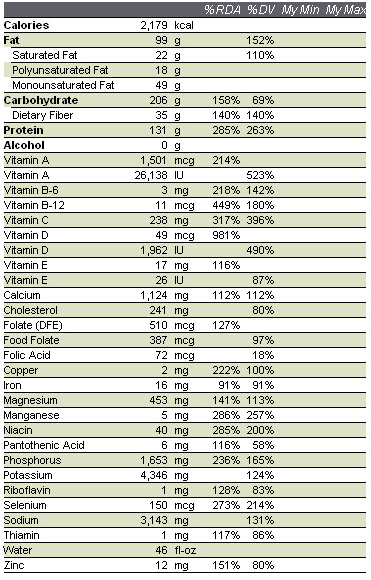 As you can see things are looking pretty piss poor on Vitamin E, Riboflavin, Thiamin and Zinc.  For once I'm also a bit low on Food Folate and Iron too.  What I'm especially not happy about is that that Calcium levels are just over 100% but that is with me taking a Calcium supplement too.  I really don't like having to take a supplement anyway, but I need to for Vitamin D (the one vitamin I don't mind since a lot of Vitamin D is supposed to come from sunlight).  The fact that even with supplementation Calcium is just over 100% means I need to do a better job eating calcium. For most people they head right to the "cheese and milk" visualization of how to do that.  Actually, vegetables can be quite high in calcium as well.  So, once again this goes back to I'm not eating enough vegetables.  I really need to get onto to that stat!
---
---