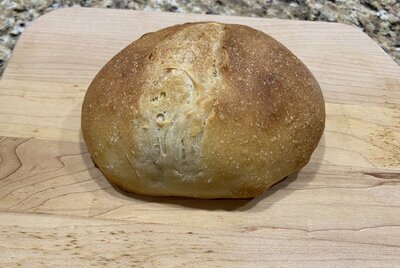 While sourdough discard can be used for many purposes from English Muffins to pancakes to pizzas, sometimes I just want to use it up quickly and easily and no fuss. I do this by using all of the starter to make a sourdough roll. This won't be the sexiest best roll you've ever had but it is tasty and is the equivalent of a "one pot" past recipe but for sourdough bread.
The ingredients for this are very simple:
100 grams of sourdough starter discard
35 grams of all purpose flour
A half dash of salt (0.05 grams) (a few shakes of a salt shaker) or to taste
Mix the three ingredients together and let sit for a couple of hours in a covered container at room temperature. A two cup Tupperware container works great for this. After a couple of hours with wet or floured hands pull the dough out of the container and knead it in your hands by folding and squeezing it. After half a minute of this form into a ball of dough and put on to a small plate greased or covered in cornmeal (I usually just spray some kitchen spray on it). Cover this and let it double in size (1-2 hours). At this point it is ready for cooking. With a razor or knife cut a slit in the top down the middle to accommodate expansion then be ready to transfer it to an oven, toaster oven, or pan.
Because it is just one roll it can be cooked in a pre-heated toaster oven at 400 degrees for 15-20 minutes. Of course a full sized oven could also be used but is overkill. Alternatively, and my favorite way, one can cook it in a skillet. Heat a skillet over medium to medium high heat with a cover on for 5 minutes. Quickly transfer the dough to the pan and place the cover on. Cook at medium heat for 10 minutes. Then turn the heat off and cook for another ten minutes. If you are using a stove top with coils or something that retains heat move the pan to a cool position on the stove.
When it's done cooking take out and cool on a wire rack. It is a larger sized roll that can be used for sandwiches, hamburgers, etc. Below is one made at the end of the Sourdough Restarting Documentation Article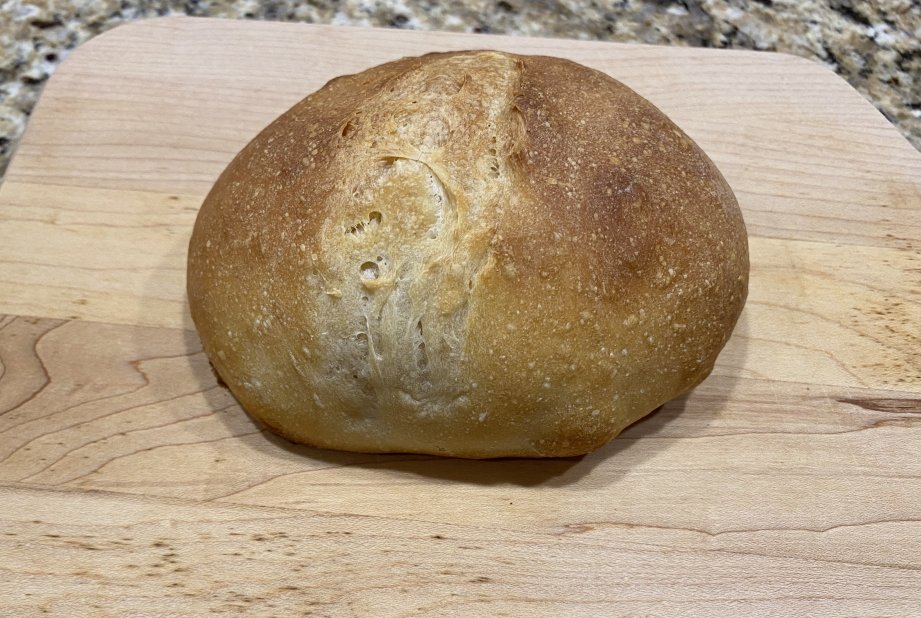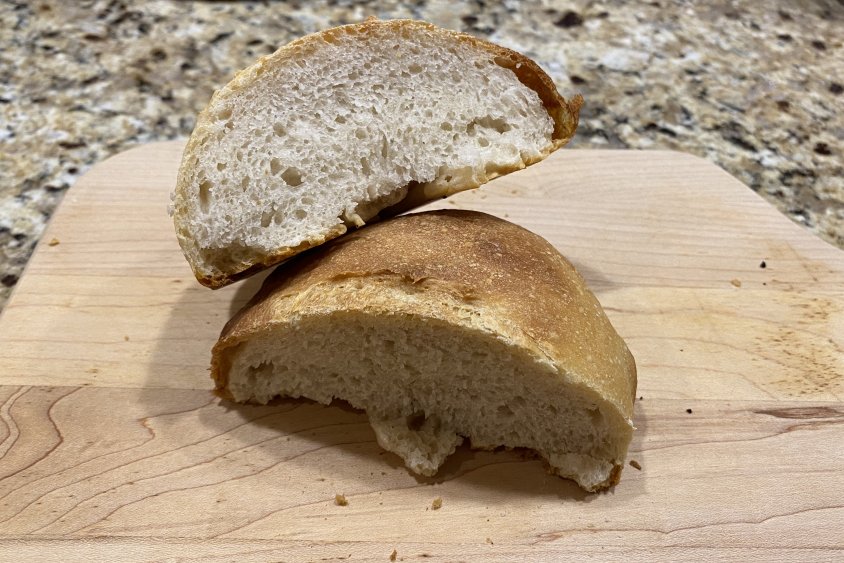 Once you've made it a few times you can also do change ups. I often make it with whole wheat flour, adding garlic and rosemary, etc. The point is that it takes only a few minutes of active time to make a fresh roll every day from your discard.